Laura Ingalls : Præriens eventyr fortsætter
Beyond The Prairie: The True Story Of Laura Ingalls Wilder
 (2000)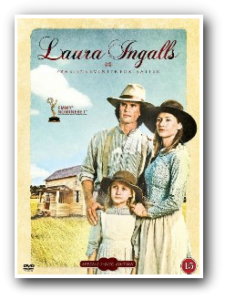 Adventure, Biography, Family
USA  /  English
| | |
| --- | --- |
| Terra Allen | Rose Wilder |
| Alandra Bingham | Laura Ingalls at 3 |
| J. Scott Bronson | Mr. Robbins |
| Courtnie Bull | Grace Ingalls |
| Lindsay Crouse | Caroline Ingalls |
| Cory Dangerfield | Cory |
| Virginia Dare Paulin | Patsy Robbins |
| Jeremy Elliott | Cap Garland |
| Walton Goggins | Almanzo Wilder |
| Tess Harper | Narrator / Older Laura Ingalls Wilder |
| | |
| --- | --- |
| Instruktør | Marcus Cole |
| Producent | Stephen Harrigan; Robert M. Rolsky |
| Manuskript | Stephen Harrigan |
Beskrivelse
Da Laura Ingalls var 60 år gammel, begyndte hun at skrive beretningen om familiens eventyr på prærien i 1800-tallet. Mange år senere har disse minder blevet til en af TV-historiens største serier - "Det lille hus på prærien".
"Laura Ingalls – Præriens Eventyr Fortsætter" er selvstændige spillefilm baseret på TV-serien og Laura Ingalls sidste bøger.
Laura er vokset op som nybygger på den amerikanske prærie og møder som ung kvinde Almanzo Wilder, som hun forelsker sig i og siden gifter sig med. Livet i South Dakota i slutningen af 1800-tallet er dog langt fra let og efter flere tragiske begivenheder i det unge pars liv, må de tage nogle hårde valg for at overleve.
Tekniske specifikationer
Stregkode (EAN): 5705535037884
Releasedato: 05-05-2009
Original titel: Beyond the Prairie: The True Story of Laura Ingalls Wilder (2000), Beyond the Prairie / Part 2: The True Story of Laura Ingalls Wilder (2002)
Antal discs: 2
Spilletid: 180 min.
Censur: over 15 år
Region: 2
Undertekster: Dansk
Land: USA
Udgiver: Midget Entertainment
Region
Region 1
Antal disk
2