DVD
94 min.
IMDB
PG-13 (Parental Guidance)
1408
Dimension Films (2007)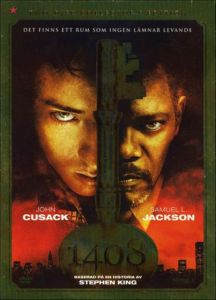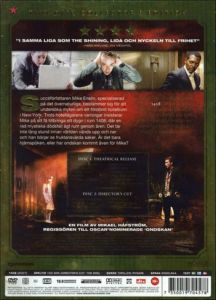 Horror, Thriller
USA  /  English
| | |
| --- | --- |
| John Cusack | Mike Enslin |
| Mary McCormack | Lily Enslin |
| Jasmine Jessica Anthony | Katie |
| Tony Shalhoub | Sam Farrell |
| Emily Harvey | Secretary |
| Noah Lee Margetts | Bellboy Noah |
| Samuel L. Jackson | Gerald Olin |
| | |
| --- | --- |
| Instruktør | Mikael Håfström |
| Producent | Bob Weinstein; Harvey Weinstein |
| Manuskript | Stephen King; Scott Alexander |
| Fotograf | Benoît Delhomme |
| Musik | Gabriel Yared |
Mike Enslin (John Cusack), a father who lost his daughter to disease, writes about haunted houses, although he personally doesn't believe in ghosts. He was a good writer once, but now his work has degenerated into hack material focused on the 10 most haunted houses or similar ideas. Then he gets a postcard telling him not to stay in Room 1408 of the Dolphin Hotel in New York. Mike is intrigued, and immediately demands to stay in the room. But the hotel manager Gerald Olin (Samuel L. Jackson), doesn't want him to, mainly because he doesn't want to clean up the mess left behind. He's even scared of the room, especially after more than 50 deaths in it. Mike is adamant, and gets the metal key. He keeps his recorder with him, trying to document his stay for the last chapter of his new book, but finds himself detailing his descent into madness. He experiences many hauntings during his stay, some that nearly drive him mad. He also experiences past events from his life, and must cope again with losing his daughter. In the end, he has to overcome his past and the room to try to survive.
Distributor
Alliance (Universal)
Udgave
Two-Disc Collector's Edition
Stregkode
7350019704578
Region
Region 1
Frigivet dato
2007-10-02
Indpakning
Keep Case
Billed format
Theatrical Widescreen (2.35:1)
Undertekster
Swedish; Finnish; Norwegian; Icelandic
Lydspor
Dolby Digital 5.1 [English]
Layer
Single Side, Dobbelt Layer
Antal disk
2
| | | |
| --- | --- | --- |
| Disc 1: | | Inside The Room Theatrical Trailer Feature Commentary by Mikael Håfström and Writers Scott Alexander and Larry Karaszewski The Secrets of 1408 Deleted Scenes with Optional Commentary |